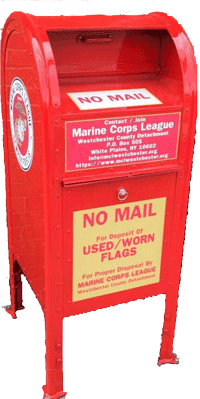 The U.S. Flag Disposal Bin Project has been created to have a repository for old/worn US Flags. Flags that are placed in these bins are collected and destroyed in a dignified manner. Please support this program.
The Marine Corps League is a 501(c)4 Organization. Donations are recognized as tax deductible for tax purposes. Please support the Marine Corps League and US Flag Disposal Bin Project. Your tax deductible donation will be greatly appreciated. Please make your check payable to "Marine Corps League" and add Disposal Bin to the memo section. Your Contributions can be sent to:

Marine Corps League
"US Flag Disposal Bin Project"
PO Box 505
White Plains, NY 10602-0505
Or you can use your Visa, Master Card, Discover Card or American Express via PayPal's secure server and donate online.

U.S. Flag Disposal
Bin Locations
United States Post Office
White Plains Main Office
100 Fisher Avenue
White Plains, NY 10602
United States Post Office
Elmsford Main Office
2 E Main Street
Elmsford, NY 10523
United States Post Office
Yonkers Main Office
79-81 Main Street
Yonkers, NY 10701
United States Post Office
Port Chester Main Office
245 Westchester Avenue
Port Chester, NY 10573
Yonkers Recycling Center
735 Saw Mill River Rd.
Yonkers, NY 10703
United States Post Office
Pleasantville Main Office
50 Memorial Plaza
Pleasantville, NY 10570