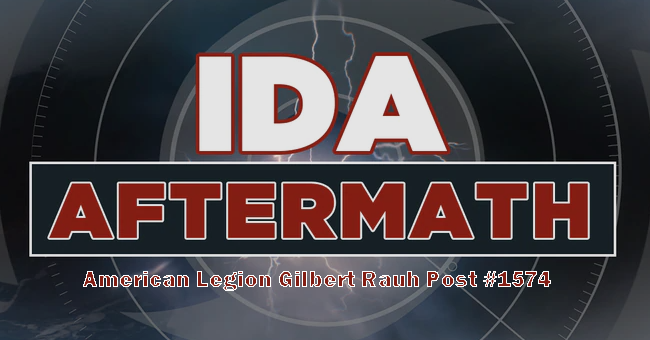 The American Legion Gilbert Rauh Post #1574, in Thornwood, New York has been the home the Marine Corps League – Westchester County Detachment for many years now, as well as the new home for the Rivertown Young Marines.
"The Legion post does a lot for their surrounding community and particularly for our Young Marines unit. They made it possible for my youth to meet throughout COVID when everything else around shut us out", said Young Marine Commanding Officer Lu Caldara.
The American Legion Gilbert Rauh Post #1574 became our home when The White Plains American Legion post could not longer accommodate the Detachment meetings. This past Wednesday night was supposed to be the Detachments monthly meeting. With hurricane Henri saturating the ground the week prior, Detachment Adjutant Paymaster Steve Topilnycky noticed that the stream that runs parallel to the post was still very high when he was dropping off flags on Sunday, that were collected as part of the U. S. American Flag Disposal Bin Program. Knowing that the parking lot has flooded in the past and the forecast of Ida, the Detachment executive board made the call to cancel the meeting. It turned out to be a good call.
The aftermath of Ida hit the American Legion Gilbert Rauh Post #1574 very hard. The water levels outside the post was over 7ft high, and over 5ft inside the lower level of the post, well above the first landing of the interior stairwell. The flood waters caused doorways to buckle. All the appliances and TV are destroyed, shelving warped, all contents of that level destroyed. That level will need to be gutted to the studs, and have mold remediation and be rebuilt. The asphalt outside also buckled. The sad part is there is no flood insurance.
Update: (6 September 2021) This article has been updated to add the photo slider of the damage of the post.
Update: (9 September 2021) This article has been updated to reflect new information, donation information for this recovery effort has been removed. Please see the message below from the Detachment Commandant.

A Detachment representative attended the meeting of the American Legion Gilbert Rauh Post #1574. The American Legion membership has decided to not pursue repairs. With that, they have discontinued fund raising for the recovery effort. If you made a donation by check to the Detachment, your check will be returned. If you made a donation via this web site, it will be refunded.
The status and place of future Detachment meetings is to be determined. We thank you everyone for your support.
Semper Fidelis,
Wilfredo Muniz Jr.
Commandant